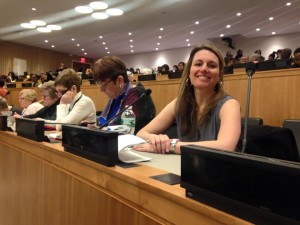 As an Associate Professor of Sociology at LIU Post, I teach courses in environmental sociology, feminism, food, and globalization. I conduct research on civil society responses to technological advancements in agriculture and food in Mexico, Brazil, and the US. Read more about my research in the About tab. In Winter 2013 I took 16 students on a study abroad course through Southern Mexico. You can read more about it on this website.
Teaching
For LIU Post students– I am teaching Soc 1 "Introduction to Sociology," Soc 71 "Globalization," and Soc 98 "Food and Society" in Spring 2016.  Email me: jennifer.brown(at)liu.edu or jennifer(at)coolmojo.net.
Community Involvement
I am happy to announce that I am a new member of Puente a la Salud Communitaria's board of directors. Puente works with rural Oaxacan women and farmers to improve family nutrition and economic sustainability. A large focus of Puente's work involves the promotion of amaranth as a strategic crop because of its nutritional qualities and history as an indigenous local crop. I first volunteered at Puente in 2006 while I was conducting my dissertation research on corn, activism, and gender divisions of labor. Puente's commitment to local issues and sustainable practices is impressive and I applaud their investment in social justice.
I am also the lead representative to the United Nations Department of Public Information for the Sociologists for Women in Society. In this role, I attend events at the UN, particularly the annual Commission on the Status of Women and the Committee on Teaching about the UN. I often bring students to UN events.